Once we turn 40, or much earlier, if we're unlucky enough, our face begins not only to wrinkle, but also do decay, in the gravity sense of the word. I'm not one to put on a lot of skin care (I'm far too lazy) but I must face the facts of my own face: it's going down, for sure. So, I made  a decision to start a proper treatment.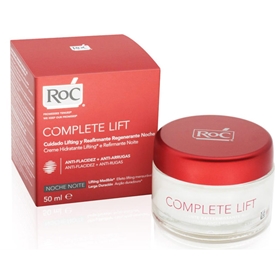 I went to Wells, in Telheiras, and got really, really lucky. I was looking for a lifter that could double as  moisturizer and was prepared to pay good money for it. And that's when luck hit me in the face and wallet: ROC was having a special offer and I got the night cream and the day one for the price of just one of them. Is was about €35,5 and the set came in a little fabric covered box that I'll be using to store jewelry.
Quando fazemos 40 anos, ou antes, se tivermos azar, o nosso rosto começa não apenas a ganhar rugas, mas também a decair, no sentido gravitacional do termo. Não sou mulher de ter  muitos cuidados com a pele (sou demasiado preguiçosa), mas tenho que encarar os factos da minha própria cara: está a descer. Por isso, tomei a decisão de começar um tratamento como deve ser. 
Fui à Wells, em Telheiras, e tive muita, muita sorte. Estava à procura de um creme reafirmante que também fosse um bom hidratante e estava preparada para que me saísse caro. E foi aí que a sorte me atingiu na cara e na carteira: a ROC estava com uma promoção especial e comprei ambos os cremes de dia e de noite pelo preço de um. Custou cerca de €35,5 e o conjunto veio numa caixa forrada a tecido que vou usar para guardar a bijuteria.
I'm loving the texture, the scent, the easiness of it all. It takes about 1 minute, 2 times a day, and it's a pleasurable moment. In the morning, after the shower, it instantly makes my skin less stiff and pulling backwards. It moistures perfectly and gets absorbed in less than it takes me to get dressed (about 10 minutes). In the evening, I do my cleasing routine and the lifter is the last stop. Is a little thicker than the day cream, but still very easy to spread and takes the same short time to be absorbed.
So, a perfect moisturizer and it's still a little early to have an opinion on the lifting part, but I've been using them for 5 weeks now, lost 8 kg meanwhile and  my face is holding up. I'd say it's a must in an 40+ beauty routine.
Estou a adorar a textura, o cheiro, a facilidade de uso. Demora cerca de 1 minuto, 2 vezes por dia, e é um momento de verdadeiro prazer. De manhã, depois do duche, o creme instantaneamente faz com que a pele fique menos rígida e repuxada para trás. Hidrata perfeitamente e é absorvido em menos tempo do que demoro a vestir-me (cerca de 10 minutos). À noite, cumpro a rotina de limpeza e o creme é a última fase. É um pouco mais espesso do que o de dia, mas continua a ser fácil de espalhar e demora o mesmo tempo a ser absorvido pela pele.
Por isso, é um hidratante perfeito e ainda é um pouco cedo para falar sobre as qualidades reafirmantes, mas uso-os há 5 semanas, perdi 8 kg entretanto, e o meu rosto está a aguentar-se.  Para mim, é um produto obrigatório na rotina de beleza de uma mulher  com 40+.