Yesterday, I went beauty-shopping and got 2 products that are supposed to be specific for aging girls: a handcream and a foundation. I also got a few other items I'll tell you about some other time.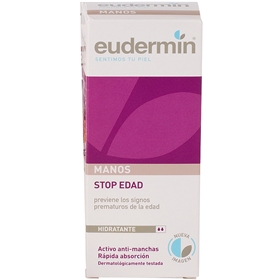 The handcream was from Eudermin, the "Stop Idade" one. It is said to have sun screen, along with vitamins C, E, F and B5, as well as alantoine. Only time will tell if it has any kind of effect as far as the aging goes, but it's creamy, smooth and easily absorbed, so I
think so far so good.
The foundation was a revelation altogether. I'm talking about Maybelline's "the Eraser", their anti-age version. First of all, it has in a very peculiar pump, that ends in a soft, round and spongy brush. I loved this, because you can choose to spread the foundation with it or any other brush. It's great to use when you're not at home, and many times I do aply foundation on my car, so I was happy with this. It is advertised as having SPF 18, as well as Gogi berries, collagen and hyaluronic acid and, again, I'll have to wait for the age-erasing treatment part of the foundation. But what I can tell you right now is that I absolutely loved the coverage and the soft feeling on the skin. The coverage is nearly full, but it kind of merges in the skin after a few minutes and doesn't come up as "too much" while it actually hides age spots or any other imperfections you may want to conceal. I'm in love with this foundation!
Until recently, I wasn't a fan of specific products for "aging" skin, but had I known what I'm learning now, I'd be a fan 10 years ago...
Ontem, fui fazer compras de beleza e troxe 2 produtos que é suposto serem para raparigas mais velhas: um creme para as mãos e uma base. Também comprei outras coisas de que vos falarei noutra altura.
O creme para as mãos é da Eudermin, o "Stop Idade". Diz na embalagem que tem protector solar, bem como as vitaminas C, E, F e B5, e também alantoína. Só o tempo dirá se tem algum efeito no envelhecimento, mas é cremoso, suave e facilmente absorvido, por isso gostei.
A base é que foi uma revelação. Falo da "Base Anti-Idade" da Maybelline. Para já, tem um dispensador peculiar, em "pump" que termina num pincel macio, redondo e esponjoso. Adorei isto, porque podemos escolher espalhar a base com este pincel ou com outro. É óptima para usar quando não estamos em casa e eu aplico a base no carro muitas vezes, por isso fiquei feliz com esta característica. A embalagem diz que tem SPF 18, bem como bagas de Gogi, colagénio e ácido hialurónico e, mais uma vez, terei que esperar para ver se a parte de tratamento anti-idade funciona realmente. O que posso dizer desde já é que adorei a cobertura e a sensação suave na pele. A cobertura é quase total, mas entranha-se na pele após alguns minutos e não tem o aspecto de ser "demais", ao mesmo tempo que realmente esconde as manchas da idade e outras imperfeições que queiramos esconder. Estou apaixonada por esta base!
Até há pouco tempo, não era grande entusiasta de produtos específicos "anti-idade", mas se soubesse o que sei hoje já os usaria há uns 10 anos...